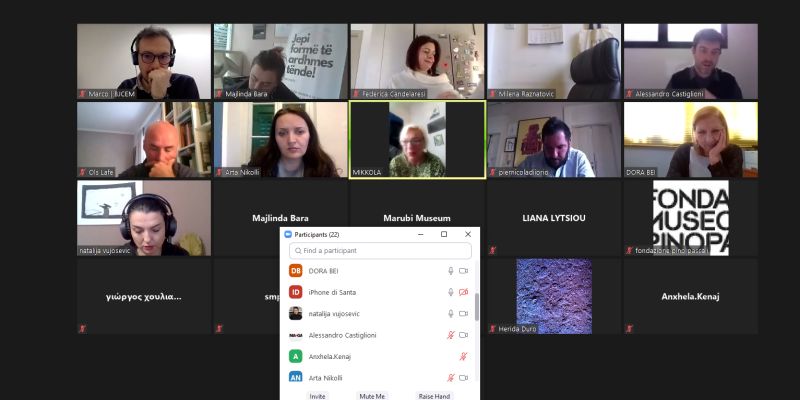 Virtual Roundtable between MONET and BJCEM Networks organised
Overview
A virtual roundtable meeting is organized by the Albanian Ministry of Culture, between MONET and BJCEM Networks.
In the roundtable, which was conceptualized in two panels, the Museums of the Future, for the new generations towards 2030 were discussed, and in more detail: 
How to strengthen connections and cultural understanding between museums
How to implement smart management of natural and cultural heritage for the exploitation of cross border sustainable tourism and territorial attractiveness
Giulia Colletti is an art historian and curator based in Turin. She is currently coordinating the Public Programs and Digital Sphere at Castello di Rivoli Museo d'Arte Contemporanea. She is an iCI (Cape Town) and Curators Lab (12th Shanghai Biennale) alumna. In 2019, she was a Visiting Lecturer at The Glasgow School of Art. Her professional experience includes curatorial and editorial training positions at CCA: (Centre for Contemporary Arts) Glasgow; OFF Biennale Budapest (2015); and 56. Esposizione Internazionale d'Arte La Biennale di Venezia. She is a member of the curatorial team of Mediterranea 19 Young Artists Biennale San Marino School of waters (https://mediterraneabiennial.org/). 
 Krista Mikkola is Emeritus President of BJCEM, Finnish, living in Paris, she worked in the Artist Association of Helsinki, in Amos Anderson Art Museum and as the coordinator of visual arts in Helsinki Festival. She also has a long career as gallerist and curator. 
The second panel had as focus: how to increase the cooperation of the relevant key actors for the delivery of innovative cultural and creative products, and evaluating  possible temporary exhibitions with exchanges of works or future realization of permanent collection. 
 Dora Bei  is a greek literature graduate, with a master's degree in Philosophy from Columbia University in New York, currently working in the Hellenic Youth Ministry – Bjcem founding member – , having the responsibility for developing initiatives and implementing national and international programmes in the sectors of Culture, Social Policy, non formal education, life long learning and leisure time of young people.