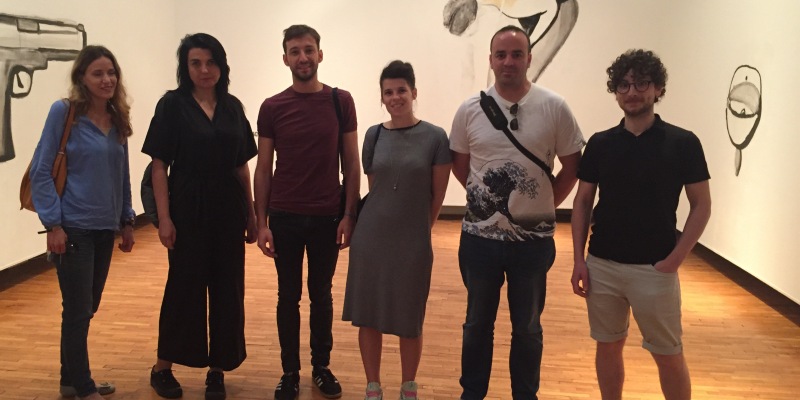 Artistic exchange in Montenegro
Overview
As part of the realization of IPA project Monet "Culture in Motion in Adriatic Networks of Museums", exchange programme was organized in National Museum of Montenegro in Cetinje and Centre for Contemporary Art in Podgorica. Participants in the exchange were artists from Montenegro, Albania, Region Puglia and Region Molise, selected on international public competition. The aim of this activity is to create unique artworks that will be presented during the exhibition in all three countries. The selected artists, together with their mentors, visited National Museum and National Library, Museums and Galleries of Podgorica and Association of visual artists of Montenegro, met students and artists from Montenegro with the aim to exchange knowledge and experience that will contribute to their future work.
At the end of the programme, eight artists presented their works during a promotional event organized in the Ministry of Culture of Montenegro, National Museum and in the Centre for Contemporary Art in Podgorica.
Within the realization of the IPA project MONET, seven exchange programs with participation of 28 artists, will be held in Montenegro, Albania and Italy. Participating institutions are National Museum of Montenegro, Center for Contemporary Art, Pino Pascali Foundation (Polignano a Mare, Puglia, Italy), Ribezzo Archaeological Museum (Brindisi, Puglia, Italy), ARATRO - Archive of Electronic Art and Laboratory of Contemporary Art, University of Molise (Campobaso, Molize, Italy), National Gallery of Art Tirana (Albania) and National Museum of Photography "Marubi" (Shkoder, Albania).
Project MONET – Culture in Motion in Adriatic Networks of Museums is financed under the first call of Interreg IPA CBC programme Italy-Albania-Montenegro. The overall objective and the main goal of the project is the creation of a network model among museums in Albania, Montenegro and Italy, by using a common methodology and developing new services and tools. In that regard, the project aims to promote natural and cultural heritage through the valorisation of museums, in terms of management and services. Allowing museums to join a new cross-border type of management should improve the touristic and cultural offer and, consequently, visitor flows. As a result, this will increase the tourist growth, as well as sustainable and economic development in the involved areas that have different natural and cultural opportunities.